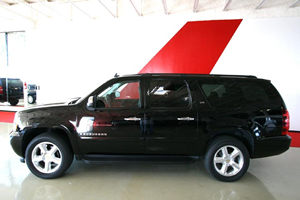 When you are looking for a return trip from the airport back home, a car service to the airport for a departing flight, taking the family on a week vacation, or leaving the country on business, Toronto Airport Limousines is a premier service provider in airport transportation services. Our drivers are specialists and professionals in receiving, conducting and transporting their riders safely and conscientiously. The safety record of our drives speaks for itself, and for our company. Our fleet of vehicles is equipped with all the necessities and amenities ranging from complimentary wet bars to onboard electronics, all built to fit your every need.
We offer one of the most classy, unique and diverse lien of vehicles and services available across the Southern Ontario region, with specific services centralized around the GTA as far east Oshawa and Courtice, and as far west as Brantford and Niagara Falls. Whether you are traveling a far distances or only a few minutes to close by Brampton, Mississauga or Etobicoke, Toronto Airport Limousines can make any car ride to and from the airport seem like meet minutes and seconds. We understand the importance of your comfort, and it is one of the cornerstones on what we build our service upon.
Our services extend to those beyond the airport, and include a variety such as wedding limousines, corporate chauffeur services, and private engagements. Our service guarantee ensures our dedication to you and your special need. Our commitment extends beyond the personal care of our riders, and looks after the health and safety of everyone through regular inspections and maintenance of our vehicles, as well as training and recertification of our drivers whenever new rules and regulations demand keeping up with the industry and it s requirements.

Our ultimate goal at Toronto Airport Limousines is to provide you with a personal limousine that can feel like your very own, with your very own personal chauffeur. For as long as you ride in the back of our vehicles, we will make you feel special. Luxury, safety and elegance are on the top of our list of priorities, and it is our commitment to operating in a world-class city like Toronto that drives us to continuous excellence, devotion and improvement within the industry. We strongly believe in setting a standard and excelling above and beyond it, every single time. Give us a call and let us show you how our service commitment will keep you coming back time after time, whenever you are in need of a limousine rental.